Who doesn't love a Super Hero, right? 
This brand new Photopolymer stamp set is bound to be a hit for card making or scrapbooking.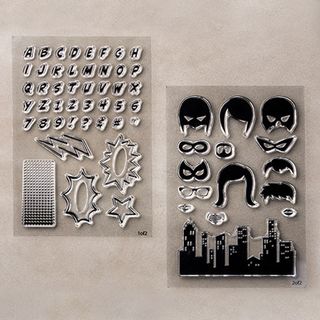 This 60 piece stamp set allows you to customize your greeting or scrapbook title.
Best of all, you can't beat the price – $25.95!

Who's your Super Hero?  A friend who's rescued you from a tight spot?
Your significant other when you've needed a break?
How about a co-worker who took over your shift?
See, there ARE Super Heros all around us!
CLICK HERE TO SEE THE FULL SCALE FLYER AND DETAILS OF THIS STAMP SET!
Convinced?  Shop my online store!
Click on the flyer below to enlarge the view
CLICK HERE to subscribe to my FREE weekly newsletter for tips, creative inspiration, promotional items and event information.