About a month ago, while preparing for my retreat, I wanted to paint the insert of a wooden frame to turn it into a chalkboard.  I got a 1" foam brush out, a small paint tray and a bottle of black chalkboard paint.  I found the application easier than I expected and the application was super easy.  It was my first experience with chalkboard paint and I was pretty excited by the results.  
Then I had an epiphany!  
Could I use chalkboard paint on cardstock?   
I finished the frame, set it aside to dry and headed to my stamp room to give it a try. I'll admit, I was skeptical but I was thrilled with the result!
Today's video showcases that original project.  Since then I've made several other cards using chalkboard paint and I'll be sharing those over the next few weeks.  I think you'll agree that this medium is a fun way, new way to accessorize your paper crafting projects.  
 You can find pictures, along with cutting dimensions, following the video in this post.   
Have you ordered your April Studio Stamps in the Mail?  If not, you'd better hurry. The last day is Thursday, April 7th.  All the details and sneak peek pictures can be found HERE.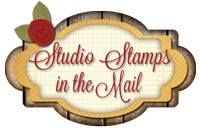 Don't forget – this Saturday is the Autism Awareness Blog Hop. Stampin' Up! demonstrators are banning together to bring inspiration and awareness!  
Cutting Dimensions
Whisper White cardstock (base) is cut 5 1/2" x 8 1/2"
Color Me Irresistible Specialty Designer Paper (Black) is cut 2 3/4" x 5 1/2"
Brights Designer Paper Stack (Bermuda Bay) is cut 1/2" x 5 1/2"