ONE DAY ONLY! I love surprises and Stampin' Up! is full of them this holiday season!  They've just announced a second round of FREE SHIPPING!  This offer is only valid from Monday, December 11th, 12AM – 11:59PM (MT).  No minimum order required so stock up on Year End Sales Event which includes discounted and retiring products, the Clearance Rack and all regular catalog product.  Be sure to use the current host code XA46DCX4.  All my online ordering REWARDS apply!
Acetate Candy Box
The simplest gift can be a "wow" with the right presentation.  Today's video focuses on simple packaging that packs a lot of "wow". I used Hershey's Nuggets to fill an Acetate Card Box and tied it up with a pretty ribbon and an embossed tag.  Whoever you gets this bundle of goodness won't just be drooling over the chocolate!
During the video I provide an alternate box idea.  I've included pictures for both boxes, along with cutting dimensions and supplies below. Be sure to scroll down to see them.
If you wish to wrap the Hershey's Nuggets as discussed in the video, cut the designer paper 1″ x 3″.
This alternate Acetate Card Box idea uses the Snowflake Sentiments stamp set, a Foil Snowflake, Gold Mini Sequin Trim and a belly band created from the Year of Cheer Specialty Designer Paper.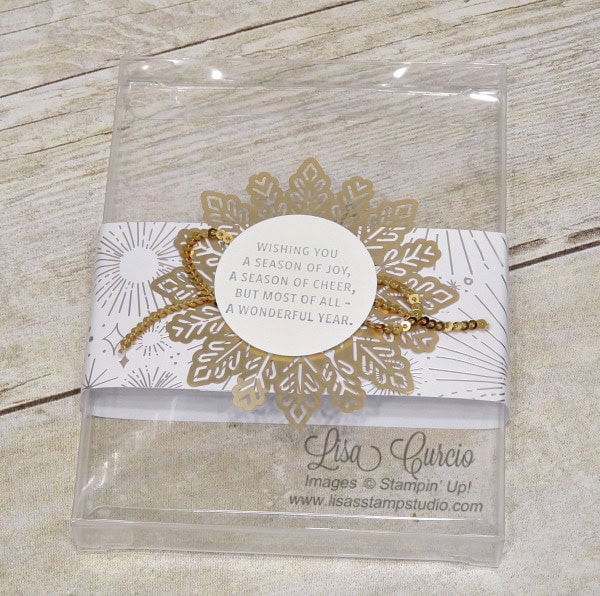 The belly band is cut 2″ x 10″ for this box.
Reserve Limitations Have Been Lifted!
The second reservation window for the Stamparatus will be open from December 5–30; however, during this reservation period
we will take as many orders as we receive (yay!) and not close the window until December 30. S
o whether the total number of reservations is 100 or 100,000, the window will stay open!
The reservation window will open at 2:00 PM (MT) on December 5. $49
Please note the following changes:
Beginning March 19, we will ship Stamparatuses in the order the reservations were received (first in, first out) and continue through the next few months and beyond as product arrives in our warehouse. Because shipment dates are based on manufacturing lead times, not all of the reservations made during the December 5–30 window will ship on March 19 (as was previously announced).
In order to accommodate demand you may only reserve one.
Make it perfect – and EASY!  You're about to be WOW'd. Stamping multiple images with PERFECT placement is now a breeze with the Stamparatus! Click HERE to see this amazing tool in action! The current reservation period continues through December 30th or while supplies last!
Because we are not limiting the maximum number of reservations this is the last chance for you to reserve a Stamparatus before it becomes available in the 2018-2019 annual catalog.
Click HERE to reserve your Stamparatus!