Your first glance at this adorable bag and you're probably asking yourself "where's the box part?". This 3″ mini box in a bag, as it's called, has a box base to hold the designer paper. It's simply constructed of two pieces, the box bas and a designer paper wrap.
This project is perfect for party favors for birthdays, showers, wedding and holidays.  Mine will hold homemade fudge wrapped in wax paper – thanks to Boo. She's been doing the baking this year since I'm still recovering from surgery.  Ahhh, it's nice to have a daughter who shares my passion for baking and chocolate!
I've included cutting dimensions and pictures for today's project below.  I've also included a complete list of supplies so be sure to scroll down to see them.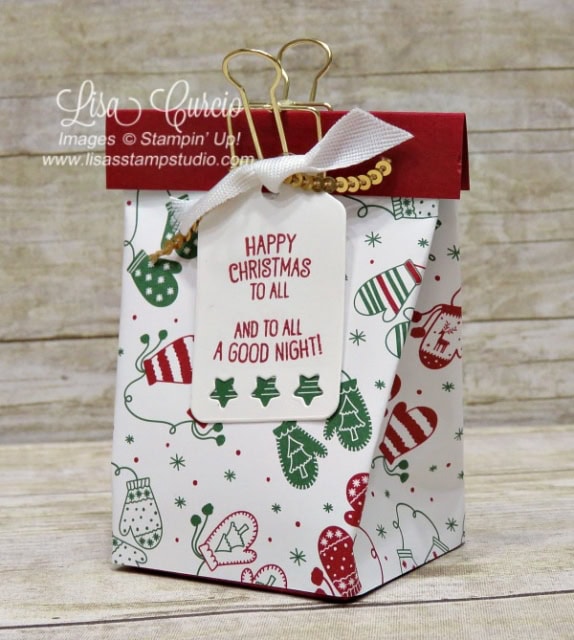 Cutting Dimensions
Cherry Cobbler cardstock for the box base is cut 3″ x 3″ and scored at 1/2″ on all four sides.
Cherry Cobbler cardstock for the lid is cut 1″ x 3″ and scored at 1/2″ lengthwise.
Be Merry Designer Paper is cut 3 1/2″ x 8 1/2″
Don't Forget to Reserve your Stamparatus!
The second reservation window will remain open from December 5–30; however, during this reservation period
we will take as many orders as we receive (yay!) and not close the window until December 30
. So whether the total number of reservations is 100 or 100,000, the window will stay open!
The reservation window will open at 2:00 PM (MT) on December 5. 
Please note the following changes:
Beginning March 19, we will ship Stamparatuses in the order the reservations were received (first in, first out) and continue through the next few months and beyond as product arrives in our warehouse. Because shipment dates are based on manufacturing lead times, not all of the reservations made during the December 5–30 window will ship on March 19 (as was previously announced).
In order to accommodate demand you may only reserve one.
Make it perfect – and EASY!  You're about to be WOW'd. Stamping multiple images with PERFECT placement is now a breeze with the Stamparatus! Click HERE to see this amazing tool in action! The current reservation period continues through December 30th or while supplies last!
Because we are not limiting the maximum number of reservations this is the last chance for you to reserve a Stamparatus before it becomes available in the 2018-2019 annual catalog.
Click HERE to reserve your Stamparatus!