Did you know there are 3 shimmer paint techniques that will give your cards a WOW factor?!
Shimmer Paint has been added to the Stampin' Up! Holiday Catalog (page38) to provide subtle shimmer and shine. Today's quick tip video will show you three different ways to use the new Shimmer Paint. And, if you fall in love with it as much as I have, you'll be pleased to know that it comes in four colors. Just think of the options!
I'll share with you how to use the Champagne Shimmer Paint by applying it with a Sponge Dauber, how to create a shimmer mist and how you can mix it to create a custom coloring medium. Keep in mind that these techniques work on any color you choose.
I've included pictures below of the three shimmer paint techniques. I'll beg your forgiveness on one of the pictures. I used a retired stamp set (GASP!). It must have been overlooked in my stash and I pulled it out to create the Christmas tag. So if you're looking for the "Merry Little Labels" stamp set, it was retired last year. (SORRY) But the good news is that the Holiday Catalog is loaded with many NEW products to choose from!
And if you're real zealous and love shimmer as much as I do, consider using it to cover boxes, bags and even the entire front of your card. You can never have too much shimmer!
Shimmer Paint Video
The Champagne Shimmer Paint was used over the stamped image. The dye-based ink pigment is mixed with the Shimmer Paint to create a shimmery colored background.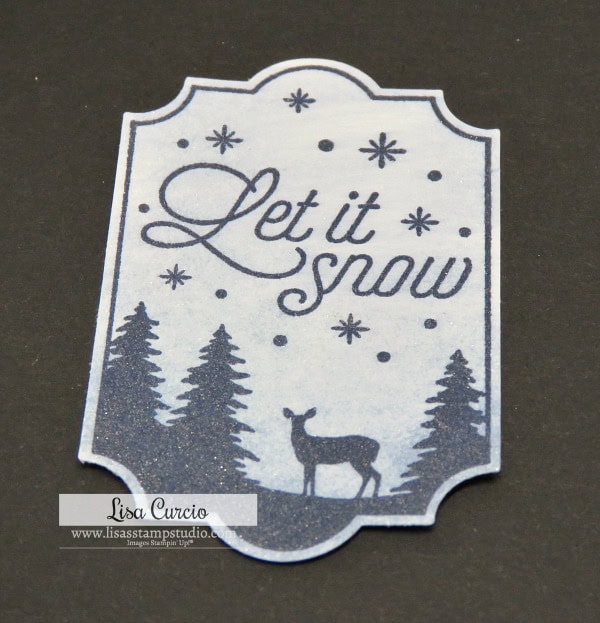 Shimmer Paint was mixed with rubbing alcohol to create a shimmer mist which was sprayed on the cardstock. Take a peek at the video because this picture doesn't do it justice!
Shimmer Paint was mixed with ink refill to create a custom color palette that was brushed on a stamped image. If you love to paint and color this is technique is for you. Be certain to stamp the image using Stazon ink or the image will bleed when colored. If you don't have a steady or precise hand, like mine, consider using images that have a coordinating die to cut out any 'stray' coloring.
Stock Up From the Clearance Rack
New items have been added to the Clearance Rack in my online store! Supplies are limited, and with discounts up to 60%, products will go quickly. Shop now and stock up. This includes FAST FUSE at more than 50% off! Be sure to use the current host code if your order is under $150 (before tax and shipping).
Here are the supplies referenced in today's shimmer paint video. Click on any of the images to be redirected to my online store. I offer exclusive and generous online ordering REWARDS, too!