Today's handmade Christmas card ideas include both 5×7 cards and standard A2 card sizes. My daughter, Gina Hawley, and I have SIX (6) cards to showcase your favorite patterned paper!
This unique z fold pop up block card uses those scraps of designer paper in a great way. Whether looking for handmade Christmas card ideas, cards for friends or birthday cards, today's fun fold is one they'll love to display.
This website contains affiliate links. If you click any of the affiliate links and purchase a product, I may earn a commission but don't worry, there is no cost to you! Read more about our affiliate disclosure by clicking here.
Handmade Christmas Card Ideas | Video
This card folds flat for mailing and we've created them this fun fold in both 5×7 cards and A2 card layouts. This inside pop up card will show off all those amazing designer papers!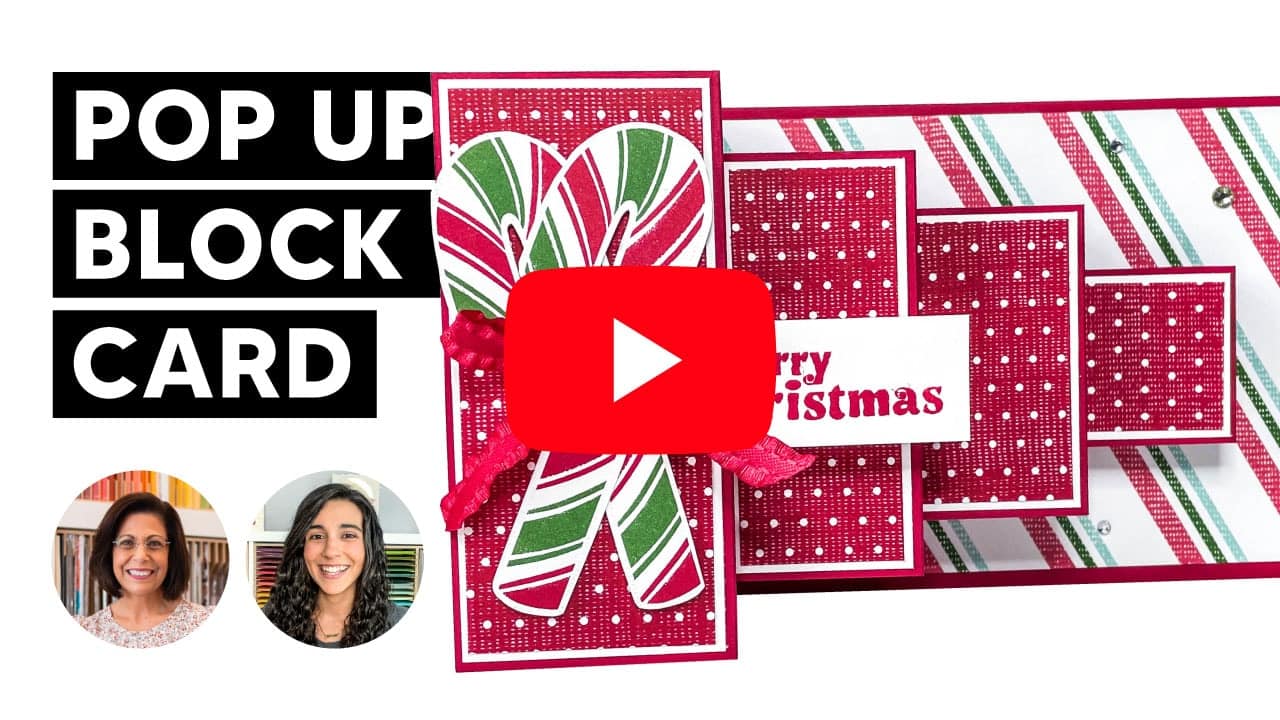 SUBSCRIBE TO MY YOUTUBE CHANNEL
Handmade Christmas Card Ideas | Mistletoe Magic
With a plethora of stamp sets, I resisted purchasing the Mistletoe Magic Bundle until recently – and I could kick myself!
The Bundle pairs perfectly with so many designer papers this year but the Painted Christmas papers are among my favorites since the bold patterns allow you to show off the patterns with ease.
Each of the blocks can be decorated with designer paper (or a small area for words or images!). The card folds flat for mailing – another bonus!
The Stampin' Blends Markers cant take any simple image to a professional level. Check out my YouTube playlist on using these alcohol-based markers by CLICKING HERE.
Wondering where you can add a personal note or family Christmas photo? Turn the card over and add a layer of cardstock!
Seal of Approval
Winter images are not only for Christmastime but kids love them year-round. Consider adding the adorable seal images from this stamp set to birthday cards.
The beautiful blue hues in the Sun Prints designer series papers are perfect for water and outdoor scenes. Stampin' Up!'s double-sided papers have a theme on one side and the reverse provides colors and patterns that can be used all year long.
These Distinktive images appear real due to Stampin' Up!'s patent design. The textures are built right into the image for instant realism – no coloring required!
The small pop up blocks house the tree and alternating blocks of patterned papers. They are both eye catching and fun to create.
Sending Smiles
The 5×7 card layouts provide more space for everything! And honestly, I'm getting hooked on this size. Consider bold images and greetings to play up all that extra space.
The Sending Smiles Bundle (stamp set + coordinating dies) include a variety of floral images, all of which are easy to create. Clear photopolymer stamps make alignment simple.
If coordinating dies weren't enough, don't miss the added bonus of the greeting dies in this Bundle. Mix and match the "sending" die to the various greetings in the stamp set for cards of every occasion.
Handmade Christmas Card Ideas | Sweetest Christmas
While there are stamps and dies for these striking candy canes (Sweet Candy Cane Bundle), Gina didn't own it so she put that fabulous designer paper to use.
Simple, bold patterns in this paper are easily cut out and assembled for this focal point. Clustered together and cinched with a ruffled bow allows the side panel to POP on this patterned paper.
The backside of these double-sided papers are neutral enough that they can be added to birthday cards and scrapbook pages all year long!
Happiness Abounds
Flowers anyone? You can't go wrong with a beautiful floral stamp set – and can we have too many? We think not! The Happiness Abounds Bundle (page 109 in the annual catalog) includes floral, greenery and 7 greetings/sentiments with a gorgeous font.
Gina also used the Stampin' Blends alcohol based markers for these flowers. She carefully coordinated the color palette to the designer paper which makes designing projects easier.
What color would you choose for your flowers? We'd love to know. Leave a comment!
He's The Man
Check out this 5×7 card! We assume you need more masculine cards, like we do, and this one's perfect for a quick fun fold idea!
Would you believe this amazing card doesn't have one stamped image? The incredible He's the Man Designer Series Paper includes not only double-sided pattern paper but two (2) 12″ x 12″ sheets of colored die cut images.
Gina played up the rustic feel of this card theme by adding the Rustic Metallic Dots. Glue Dots are already on the back of each embellishment which makes them easy to add.
Click on the red tutorial box below to view and/or download the card measurements and the supplies. Click on any product in the download and it will redirected to my online store where you can view them larger and/or add them to your cart. I offer exclusive and generous online ordering REWARDS, too!
Pin It!
If you have installed the Pinterest extension, click and pin the image below to your favorite Pinterest board. One click and you'll come right back here to view the video, pictures and cutting dimensions.
Specials
Stampin' Up! offers regular specials that include promotional and limited time products. From stamps, dies and accessories there are even more ways to be inspired! Click on the button below to check out the current specials. Remember, products are available for a limited time and while supplies last.
---
This website contains affiliate links. If you click any of the affiliate links and purchase a product, I may earn a commission but don't worry, there is no cost to you! Read more about our affiliate disclosure by clicking here.
---